Which governments are tackling overall emissions?
Globally, around 140 countries have made commitments to reach net zero - covering about 90% of global emissions. The majority are aiming for 2050. The table below shows the targets for the top 15 countries in the KPMG Net Zero Readiness Index. At the 2015 UN Climate Change Conference in Paris, we saw 196 Parties enter into the Paris Agreement: A legally binding international treaty aiming to hold "the increase in the global average temperature to well below 2°C above pre-industrial levels" and pursue efforts "to limit the temperature increase to 1.5°C above pre-industrial levels."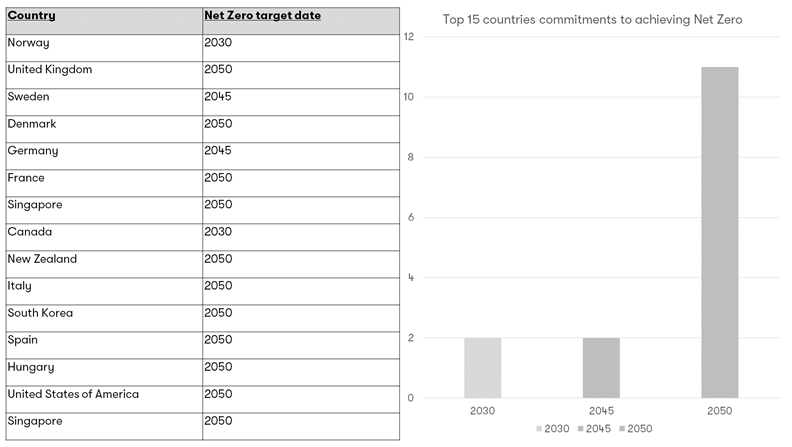 Information from the KMPG Net Zero Readiness index 2021, Net Zero Readiness Index - KPMG Global. The index is a tool that compares the progress of 32 countries in reducing the greenhouse gas emissions that cause climate change and assesses their preparedness and ability to achieve net zero emissions of these gases by 2050.
Net Zero aviation
In the past 30 years emissions from international aviation have increased by 146%, the fastest growth in the whole transport sector. Aviation brings huge benefits to society, and decarbonising it requires very significant investments in new fuels, new aircraft designs, or both. This means that the direction and priorities of governments are very important in setting the conditions for the aerospace, aviation and energy sectors to develop.
We have seen the beginning of policy making for net zero aviation for domestic air transport. There has been a recent ban on short-haul domestic flights within France where train travel provides an alternative with less than two and a half hours journey time exist. Scotland is also working to reduce the environmental impact of aviation in line with their goal to be net zero by 2045. In 2019 aviation accounted for 4.5% of its total emissions. The Scottish government has committed to work to decarbonise scheduled passenger flights within Scotland by 2040. At HAV we are currently working to deliver a new concept study to help Scotland's more remote regions pave the way to net zero air transport as the region ramps up efforts to build a more sustainable future for aviation. Sweden, Norway, New Zealand and Iceland have all announced work aimed at finding paths to net zero domestic air transport.
Legislation covering emissions from international air travel may take longer to emerge. The UK has taken a lead by incorporating emissions from international air travel in its net zero goals for the aviation sector. This is in contrast to the norm: the responsibility for CO2 emissions from international flights is held by the International Civil Aviation Organisation (ICAO), a body of the United Nations. This means that countries can in theory meet their Paris Accord obligations without taking steps to decarbonise international air transport.
A further question is whether emerging policy will take the form of taxation (eg introducing a tax on aviation fuel), incentives (such as those incorporated for production of sustainable aviation fuels under the US Inflation Reduction Act) or mandates (such as the EU's proposed mandate for 70% of aviation fuel to be comprised of SAF by 2050).
Finally, let's take a closer look at top ranking country: Norway
According to KPMGs Net Zero readiness index, Norway has ranked first overall, first for policies and enabling environment, and first for the transport sector. However, it has only ranked third in national preparedness, as it faces significant decisions over how it continues to tackle climate change. Norway will have to decarbonise 30 times faster than its current rate to be net-zero by 2050.
In air transport, the country's air travel emissions are double the global average due to the country's complex geography, rich in fjords, mountains and forests. Air travel is relied upon more heavily as navigating their terrain is more complex compared to other countries. For example, the routes from Oslo to Trondheim and Oslo to Bergen account for about 20% of emissions on domestic routes. Despite this they have one of the earliest net zero targets, aiming to be net zero by 2030.
So how are they going to achieve their goal of net zero by 2030?
A key action is to increase greenhouse gas taxes by 2030. They will introduce a gradual increase in the taxation of greenhouse gas emissions which are not included in the current emission trading system, including transport, waste, agriculture, buildings, industrial production, and the oil and gas industry.
They are aiming for all domestic short-haul flights to be electric by 2040. To do this they are exploring new aviation technology, such as eVTOLs and electric aircraft.
They are already a world leader in adopting electric vehicles as a result of tax incentives and a ban on the sale of combustion engines.
They have the highest number of clean technology companies in the industry sector, and highest investment and planned capacity of carbon capture and storage.
They are focusing on decarbonising heavily polluting industries such as the construction industry. This sector alone contributes to more than 10% of global greenhouse gas emissions. The development of new technologies such as creating the first zero-emissions urban construction site in the world, with all the machinery on site being fully electric, reduces not just carbon emissions, but also noise pollution.
Norway would be a great use case for Airlander, which could to sustainably navigate their complex terrain, land closer to major cities and take advantage of the fjords with its ability to take off and land on water. This would enable high capacity domestic flights to continue as well as eliminating the carbon emissions associated with them. For the nations with near-term net-transport goals, and which obtain major social benefits from short-haul air transport, Airlander provides a new and better option for future air services.
Extracted from Airlander website - read more here